When it comes to car parts in Glens Falls, Warren County, Hudson Falls, or Queensbury, NY, you will find a large selection of car parts in stock at V.I. Enterprises Auto Parts. From engine parts to suspension components, fuel system parts to auto electrical items and beyond, we stock the major car body parts for all major systems in your vehicle and have three convenient locations to choose from.
Find the Part You're Looking For
What sets us apart from any other car parts store in Glens Falls, NY is more than just our diverse inventory—it's also our ability to find any part you need and have it delivered. We can track down specialty parts and have them in your hands quicker than any car parts store!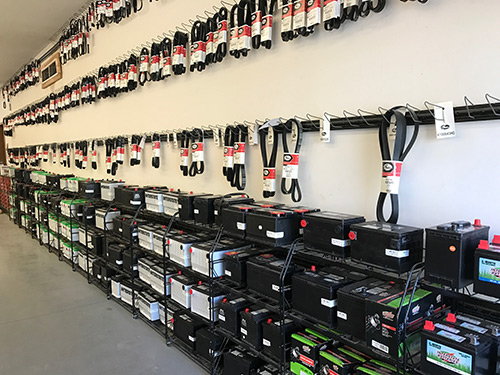 Moreover, our expert staff are knowledgeable when it comes to understanding the needs of our customers. This means you are always going to get a top-tier level of customer service when dealing with us.
Best-in-Class Brands
Our car body parts aren't just generic stock—we carry some of the most reputable names in the automotive industry. Turn to us for quality brand names such as:
Champion™
Monroe™
Wagner™
NGK™
Anco™
Car & Truck Parts We Stock
Nowhere else are you going to find a more complete selection of car parts. No matter the vehicle make, model or year, chances are, we've got the part you need in stock. Come to us for any of the following car body parts:
Alternators and starters
Axles
Ball joints
Batteries
Bed liners
Belts
Body parts
Brakes
Carburetors
Catalytic converters
Chassis parts
Cleaning equipment and supplies
Cooling system parts
Crankshafts
Custom car parts
Dash gauges and controls
Drive train parts
Drums
Engines and engine parts
Exhaust system parts
Filters
Fuel and oil conditioners
Fuel and water pumps
Fuel system parts
Gaskets
Generators
Heavy-duty truck parts
Hoses
Hydraulic cylinders
Motors and pumps
Import parts
Master cylinders
Mechanic's tools
Mufflers
OEM parts
Pistons
Radiators
Rotors
Shocks
Spark plugs
Speedometers
Springs
Starters
Steering parts
Struts
Suspension and steering parts
Tire equipment
Truck accessories
Universal joints
Valves
Windshield wipers
For more information about our inventory of wholesale auto parts or to inquire about any specific car or truck parts you might be seeking, contact us today by calling (518) 792-1184. Or, if you're interested in a commercial account, call us for details!